Event Sustainability Highlights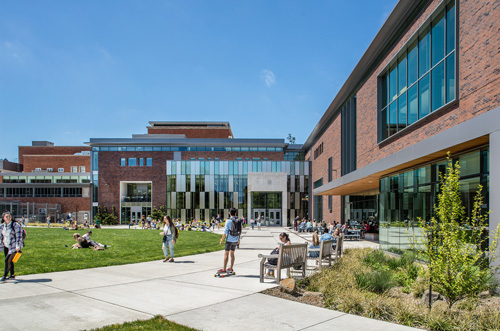 The Erb Memorial Union building is pursuing LEED Platinum Certification
35% more efficient than Oregon Energy code
Expandable 250 panel 16kW photovoltaic array installed on the North Wing roof
All storm water detained on site in filtration planters, flow through swales and rain gardens
Heavy timber structure in building addition supports local industry and sequesters carbon
On-site bicycle parking
Site and roof materials selected to reduce Heat Island Effect
Plumbing fixtures reduce potable water use by 40%
Operable windows for connections to the outdoors
Indoor Environmental Quality supply of 100% outside air delivered to spaces in the new additions
Recycled content and local materials selected for use in renovation
Building materials reclaimed from 1970 building demolition
Forest Stewardship Council (FSC) and reclaimed wood installed throughout project
Green Power purchased to fuel building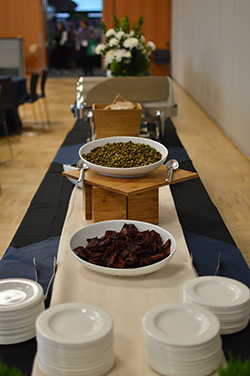 WOHESC is working with the University of Oregon to provide a 100% vegan/vegetarian menu with an emphasis on local, organic, sustainably sourced products

Menu and more details to come, stay tuned!

Condiments, creamers, and sugar to be served in bulk containers
No plastic straws or stir sticks will be permitted
China to be used for all meals
Water to be provided in bulk containers
While you won't see front of house compost available, University of Oregon composts all food waste back-of-house, including food scraps from plates. This is mandated by the University's waste provider, and decreases contamination
WOHESC has taken the Sustainable Food Pledge - learn more here >>
Reusable Lunch Containers and Utensils provided by OZZI

Each conference attendee will receive a gift of an OZZI reusable lunch box and utensils for the Build Your Own Box Lunch on day two of the event, and to take home to use for future meals. OZZI is a revolutionary system that eliminates traditional disposable take-out containers for all segments of the food service industry.by utilizing enhanced technology.
Official conference materials are printed using vegetable based inks on recycled materials
Printing is limited and preference is given to digital resources
Dates or year-specific elements are not used on any signage that has the potential to be reused

Event promotion is pursued primarily via online methods
Registration process utilizes a 100 percent paperless ticket system
Badge holders are compostable, made from corn-starch and reused when possible

Complimentary JUMP Bike Access

All registered WOHESC attendees will receive complimentary access to PeaceHealth Bikes. PeaceHealth Rides is a form of active transportation where users can pick-up and drop-off publicly available bicycles for one-way trips across the city. Bike share conveniently and affordably compliments other forms of transit, keeping you healthy and on the go. The program is a partnership among the City of Eugene, University of Oregon, Lane Transit District, JUMP Bikes and title sponsor PeaceHealth. Sign up to ride at PeaceHealthRides.com, download the app, and follow the journey on social media @PeaceHealthRides.

© 2020 | Event by Social Enterprises, Inc.

1604 NW 15th Ave
Portland, Oregon 97209
Office | 503.226.2377
Toll Free | 1.855.740.8417